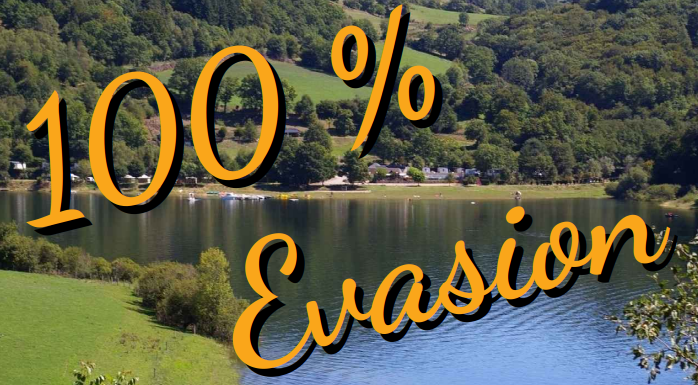 Camping holidays! Wating for these good moments of true conviviality in the middle of nature, far from the crowd! The wild spaces of Aubrac, freedom...
But health and safety remains the priority. We therefore adapt our organization so that your next vacation remains a wonderful moment.
Enjoying your vacation is your priority!
Implement the necessary measures so that your experience with us remains extraordinary, that's our job.
We are working on it every day. Lots of small details, small changes, a lot of innovations that you might not even see.
Just follow the organizational rules and guidelines, and we'll do the rest.
The privileged and secure location of Camping La Romiguière
In the heart of the Aubrac Regional Park, where the population density is around 15 inhabitants / km2, our very isolated location and far from the crowd is certainly a guarantee of relative security (even if the risk 0 does not exist). The first village with shops is about 10 minutes far by car. The nearest big city is 1 hour away...
We also adapt our schedule so that you are spread across the entire campsite to avoid overcrowding. Our facilities do not allow large crowd gatherings anyway. At the highest season you will have about 150m2 around you, very far from the recommended 4m2!
For your next vacation away from the crowds, choose the security of an isolated campsite in the middle of wild outdoors.
Sanitary PASS
When the swimming pool is open (from June to the end of August), we will control your sanitary pass only once upon your arrival (only for adults). If your pass is valid, you will have access to all the campsite equipment. If your pass is not valid or missing, you will be able to access everything except the pool and the bar terrace.
Booking
Cancellation Guarantee : Book risk-free ; our cancellation guarantee takes into account the risk of pandemic or lockdown.
Postponement for free : you have booked and you cannot come on the scheduled date? No problem. We shift, free of charge. With us,

you never lose your deposit

. Have a look to the booking conditions here
We set up a contactless check-in ("Express Checkin") : a few days before your arrival at the campsite, you will receive the instructions to settle your invoice and access your location or your rental

without going through reception and therefore contactless

! No waiting, everything will be ready, you will arrive "at home"... just arrived, already on vacation!
Reception
Maximum 2 people at the reception: the receptionist and ONE customer only
Don't forget your personnal pen
Hydroalcoholic solution available at the reception
Opening of the contactless campsite barrier
Autonomous RVs
Service area (drain, water) open
Open pitches (with water, electricity, gray water drainage ...)
One tap for drinking water and one electrical outlet per location
Camping Pitches (for tents, caravans, RV)
80% of the pitches are equipped with individual drinking water taps, electrical outlets and gray water drainage
Installation of individual camping shower authorized (with connection to the site drainage)
Rental of individual refrigerators (we no longer take battery packs for coolers)
Toilets & Showers
Some equipments are removed to ensure distance
Shower, sink and WC in individual cabins
Children under 10 must be accompanied by an adult who must guide them in the proper application of barrier measures
Reinforced cleaning and disinfection several times a day
Virucide spray (EN 14476) available to allow you to disinfect the sink before use (or even after if you want to help us a little)
Hydroalcoholic solution available
Forbidden to tenants and residents of mobile homes
Forbidden to people not customer of the campsite (beach users for example))
Private Mobilhomes
Your personal and private accommodations are accessible
Mobilhomes and Canvas Bengalows rentals
The accommodations will be left empty for at least 24 hours between 2 rentals, even in very high season
Complete disinfection before each arrival using virucidal products (standard EN14476), including pillows, blankets and mattresses
Disposable mattress covers and pillowcases provided
No rental of sheets (you must bring your own, sorry...)
Pontoon and lake
Pontoon open (private access) ; Not more than 4 people at the same time on the pontoon.
Beach
No gatherings of more than 10 people
Boat and pedal boat rental
Disinfection of boats, life jackets, oars and paddles after each use
Swimming pool
Application of the protocol recommended by the Regional Health Agency
The swimming pool is not covered, therefore very ventilated. This naturally avoids the stagnation of a possible virus.
Limitation of instant attendance to 30 people (note that this usually never happens ...)
Disinfection of contact areas (deckchairs, showers, handrails, handles) several times a day
Hydroalcoholic solution available
Playgrounds, pétanque court
Strictly respect distancing and barrier measures
Wash your hands regularly
Bar, snack
Opening in July and August as every year
Service only on the outdoor terrace
Privatization possible out of season for groups
Animations
The program planned for the summer will be provided
Provisions common to all guests :
Respect scrupulously the distance and the barrier measures
Wear masks when physical distance cannot be respected
Do not approach staff within 2 meters
Wash your hands regularly
For everyone's safety, let's respect barrier gestures and distance measures
Follow government recommendations