Here you will find the certified reviews of the guests that have actually stayed at Camping La Romiguière. These reviews of Camping La Romiguière are collected and distributed by Ctouvert, specialist in online booking systems, independent of Camping La Romiguière. You can immediately see the reviews of Camping La Romiguière on www.camping2be.com
Tripadvisor, Zoover, ...: Be wary of reviews posted on sites supposedly specialists like Tripadvisor or Zoover. Anyone can write an anonymous review on Camping La Romiguière, even a competitor. Of course, some guests may not be satisfied with their stay at Camping La Romiguière. This is why we try to present on this site the most accurate informations possible so that you do not have any unpleasant surprises.
The only opinions about Camping La Romiguière officially, verified and certified are those displayed on www.camping2be.com

What if essential was just nearby ?...
Holidays at Camping La Romiguière means taking time to do nothing. Camping La Romiguière is like an island. But you will certainly enjoy to discover all around...
Medieval villages, wild spaces or outdoor activities? Ask us and we'll give you some advince for visiting or walking around and discovering what you will not find in guidebooks
At the campsite, children will make friends and have fun. Adults will enjoy the quietness of the beach and the amazing view.
If your teens appreciate isolated and wild places, they can explore the surroundings to discover the fauna and flora.
At the Campsite :
Explore the villages around :

There are plenty of little treasures to discover! Adventure in the countryside !...
and many others...
To discover :
The call of the deer (from the end of september)
Sled dogs on the Monts d'Aubrac in summer !
Via Ferrata in the Truyère valley
Road to the imagination (Carladez)
Hot water springs and minéral waters
Calmont's castle and demonstrations of medieval weapons fire
Festivals :
Transhumance Festival à Aubrac (last weekend of May) near Aubrac: When this great folk festival, the country's empty stables and cows, adorned with flowers and ribbons, go to the mountain. A day of walking outdoors on the Aubrac highlands ! This event annually attracts some 30,000 visitors.
Medieval Festival in Estaing (mid-September): the whole village is adorned with the colors of the Middle Ages. Knights, dames and great feasts are demoiseaux the sound of viols and drums ... the opportunity to (re)visit the castle in old-fashioned costume...
Visits :
Conques: famous village located on the road to Saint Jacques de Compostela
Entraygues
Espalion with its magnificent bridge over the river Lot but also the scuba diving museum, Castle Calmont, the lava flow of Roquelaure ...
Estaing (whose castle belongs to the President of the Republic Valéry Giscard d'Estaing)
Laguiole : capital of the famous knife and of the Aubrac cheese
Rodez: historical city and shopping center of the department
Aurillac
Millau and the Viaduct
The cellars of Roquefort famous creamy cheese made from sheep's raw-milk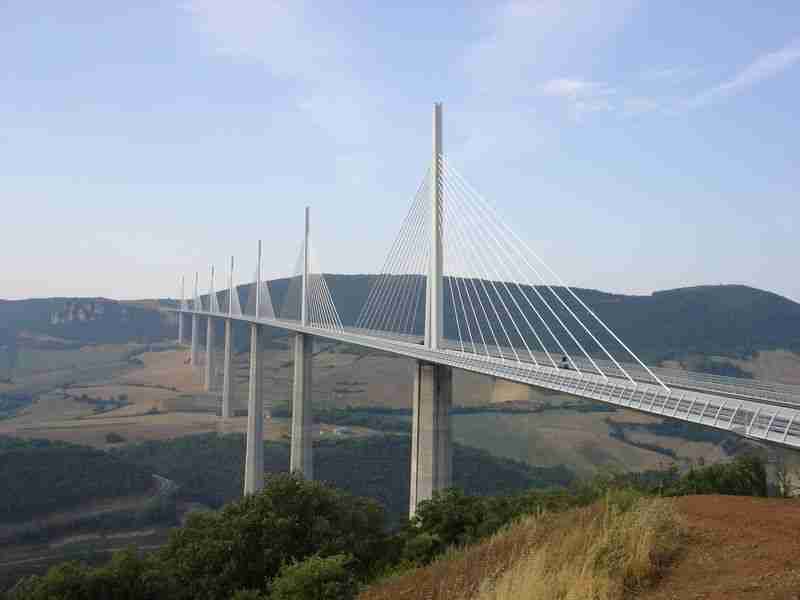 Sports Activities:
Canoeing on the Lot
Tennis
Mini-golf
Riding
Golf
Walking, cycling and mountain biking
Paintball
Course Freestyle
Ask us and we'll tell you where to spend an afternoon away from the crowd...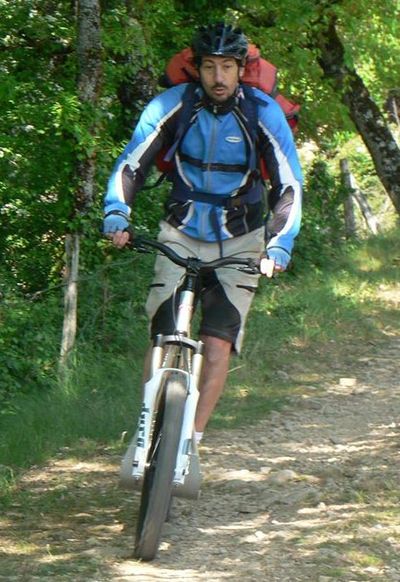 For a half-day ride, for one day or more, choose your rental. The mountain bike (provided with helmet and repair kit) are directly available at the campsite.
And for new sensations, try the downhill scooter. This scooter "All Terrain" is specially designed for downhill slopes. The tour is accompanied by a qualified instructor and you will discover the natural treasures of northern Aveyron.
Look at Camping La Romiguière in live ! You can see what the weather is here or how high is the water level ! The water level can change a lot during spring and automn. It is allways high during the summer.
You will find here the questions asked by some customers, and our answers of course !
Is there a WIFI access at the campsite? If so, is it free?
You can access our WIFI with your own computer, tablet or laptop overall the campsite. Access is free. Some sites are blocked (like youtube for example). Please note that our internet access is very slow, but you can certainly read your messages and view Web pages.
When should I pay the balance?
You pay on arrival. Note that most of other campsite ask you to pay 30 days before arrival. Not here!
Is it possible to rent a bed and a chair for baby?
Yes, we have a baby equipment (cot and high chair). There is also a free access space for babies (changing table and bath) in a sanitary.
Are Camping pitches marked out?
Yes. The boundaries of the sites are materialized by trees or shrubs. Some sites have blackout hedges (which mask other locations).
At what time can we have our mobilhome?
Your mobilhome or bungalow will be ready no later than 16 hours.
Can we arrive in the morning?
Your rent or your site must be freed by previous holidaymakers before you can dispose of it. Furthermore, we need a little time to do any refurbishment. In the morning, we take care of departures, and afternoon arrivals ...
What do I do if I think I arrive after the closing of the reception?
You must contact us so that we are informed of your late arrival. We wil indicate you the procedure to follow to access your location or your pitch.
What will I find in the grocery store?
We have a convenience grocery store where you only find basic necessities.
Where are the nearest shops?
On the campsite you will find a food service with breads, pastries (high season) as well as necessities. 10 min by car, Saint-Amans-des-Cots, you will find a SPAR, a bakery, a butcher and various shops.
Where is the nearest cash machine?
The nearest cash machine is at Saint-Amans-des-Cots, 10 minutes by car.
Do you accept cash and/or credit card?
We accept credit cards and cash for payment for your stay at the campsite and the Snack / Bar.
What kind of electrical outlets do you have about the locations?
The campsite is equipped with french sockets (2 poles + earth) - don't forget your adapter if you are using british plugs.
Is there a television in my mobilhome?
Sorry, there is no TV here. Take the opportunity to make a cure "no TV" and watch the spectacle of wild nature around the campsite.
How should I manage my departure from the campsite?
In rental: Come and see us the day before your departure to give us an estimated time of departure. Once you are ready to go, come and meet us at the reception for the inventory. Remember that you must leave your rental before 10am.
Camping: The location must be released to 12.00. Remember to give us back the access badge.
Do you accept animals on the campsite? And in rental?
Our friends the animals are accepted under certain conditions. We accept a maximum of 2 pets per accommodation and per pitch. It is agreed that they must be leashed and their books vaccinations are presented upon arrival at the campsite. You will have to pay a fee per day per pet. Dogs bred Rottweilers, American Staffordshire Terriers, Staffordshire Terriers, Rosa or dogs assimilable by their morphological characteristics, are strictly prohibited.
Can we bring barbecue?
Gas grills and charcoal are allowed. Electric barbecues are prohibited. Fires on the floor is prohibited.
Is it allowed to swim in the lake?
Swimming is allowed in the lake. Bath is supervised during the summer. Do not hesitate to ask about the temperature and depth of water.
Is it possible to fish in the lake? Do I need a fishing license?
Yes ! Fishing is allowed in the lake and you must have a licence ("carte de pêche").
Are there any in areas where fishing is prohibited?
Yes and no ! You can fish everywhere. However, a temporary reserve is in place from April 7 to June 13, from the beach of the camping to the tip of Oustrac (the farm in front of the campsite)
Do you have a washing machine?
Yes, the campsite has a laundry area with a washing machine. You can buy tokens at reception (1 token washing machine: € 5.00).
Do you have dryers?
No...
Le Camping La Romiguière participe à votre formation en Tourisme, en Langues Etrangères ou en Hôtellerie-Restauration en vous proposant un stage destiné à vous donner une expérience dans une entreprise touristique. Les stages font tous l'objet d'une convention. Pour tous les stages, vous serez nourris et logés au camping.
Vous nous prêtez quelques semaines de votre temps, nous vous offrons une expérience riche et variée, dans une ambiance très conviviale.
Le Camping La Romiguière c'est :
Bar/Restaurant : notre restaurant propose des plats régionaux et traditionnels, ainsi que des formules rotisseries, pizzas ou snack. Notre salle peut accueillir environ 60 couverts simultanément.
Hotellerie : notre camping loue des mobilhomes et des bungalows à la journée ou à la semaine. Vous participez à l'accueil des clients et à la prise en compte de leurs demandes (infos tourisme, problèmes techniques, animations, activités...)
Activités : notre camping propose diverses activités pendant la saison : soirées spectacle, concours de pétanque, location de bateau... Vous devrez prendre en compte les demandes de renseignements et d'inscription des clients et, pourquoi pas, participer vous-même à ces activités
Vos Missions :
Participez à toutes les activités d'un camping 3*** situé près de Laguiole (Nord Aveyron). Vous pourrez acquérir ou approfondir votre expérience dans tous les métiers de l'hotellerie de plein air. Pendant votre stage, vous interviendrez sur toutes le activités du camping. Vous aurez ainsi l'occasion d'en apprendre plus sur l'ensemble des métiers possibles et pourquoi pas de vous spécialiser dans le domaine qui vous plait !
Accueil / Réception (accueil des clients, arrivées/départs, informations touristiques...)
Bar / Restaurant (mise en place, prise commande, service en salle, encaissement, ...)
Animations (préparation et mise en place, participation avec les clients)
Votre profil :
De formation Tourisme, Langues étrangères ou bien Hotellerie/Restauration. Vous êtes dynamique et rigoureux, et vous aimez l'autonomie. Vous aimez le travail en équipe et vous appréciez le contact avec les clients.
Le camping étant isolé (10 min en voiture du plus proche village), vous appréciez les endroits sauvage et très "nature".
Date et Durée :
En saison (juillet et aout) De 1 à 2 mois selon vos disponibilités.
Campsite La Romiguière is on the very near shore of the Lake of Selve (also called Lake Maury). You can see the lake from every pitches. The little yellow rectangles represent the mobilhomes. When you book, you can ask us for a specific pitch number... Be aware : all mobilhomes are not availlable for booking.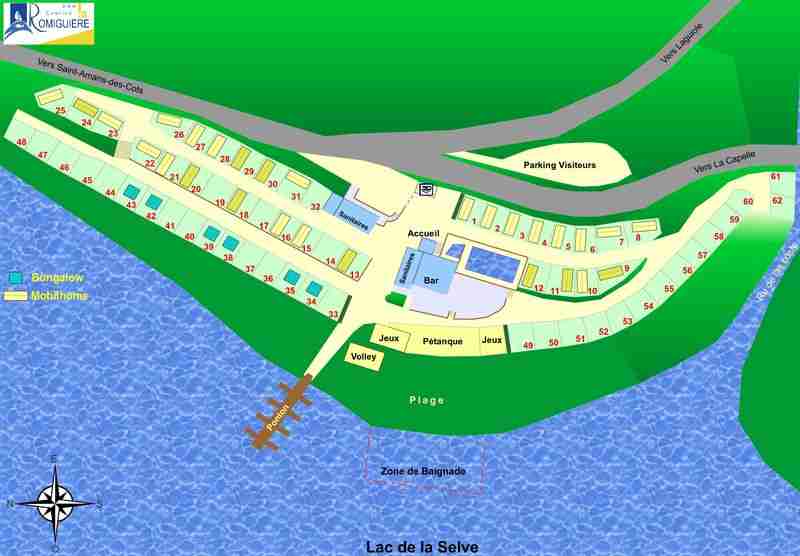 Transhumance in Aubrac - 28 may 2017
If you like this...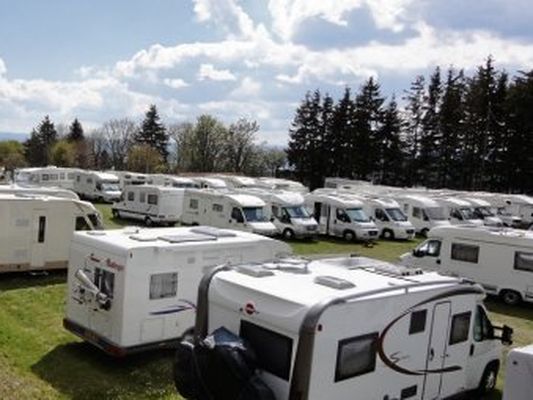 ...we can't do anything for you !
Campsite La Romiguière is about 40 minutes (by car) far from Aubrac village. To go to Aubrac, where the Transhumance Festival is, sunday may 28th, you can opt for
the bus

.
So you will be able to enjoy the quietness of the campsite, the ideal situation between the Lot's valley (Estaing, Espalion, Saint-Cosme), the Truyère's valley (Entraygues) and Aubrac (Laguiole) ; this is probably the best place to visite north-aveyron, and participate to the Transhumance festival in Aubrac.
A special menu will be proposed Friday, Saturday and Sunday evening at the restaurant of the campsite. We will also have traditional music Friday 26th may evening.
Like every year, at around St. Urbain (end of May), it is customary to raise herds in the mountains of Aubrac to graze during the summer. This is the transhumance.
28 May 2017 : 36th « Transhumance and Aubrac cows Festival »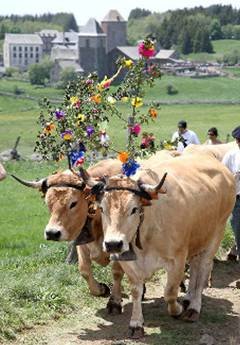 La Fête de la Transhumance in practice :
The road Saint-Côme-d'Olt - Aubrac is closed to traffic Sunday, May 28th, 2017 , the day of the Festival of Transhumance and the rise of cattle, but road signs will help you to go to the village. We will give practical informations so that you can take full advantage of this day.
Transhumance Aubrac CampingCar :
The service area for CampingCar at Aubrac is closed during the week preceding the festival of transhumance. Parking is provided for motorhome, but if you do not like crowds of large gatherings of motorhomes, Camping La Romiguière you offers an astute fall 20 minutes far from Laguiole. All sites have lake views. They are flat and have water and electricity (10A). Service Area for drain is available.
Enjoy the Festival of Transhumance Aubrac for a few days in a quiet place at Lake of the Selve.
In addition, in 2017, we propose transportation to Aubrac. Starting at 9 am in the direction of Aubrac and back to 17 pm at Campsite La Romiguière. The round trip costs 20 € per person. Please book as soon as possible so that we can hire a vehicle adapted to the number of people! Don't forget to book.
Transhumance Aubrac mobilhome :
Camping La Romiguière offers rentals of mobilehome from 2 nights. The mobile homes are heated and most share a view of the lake Selve. Don't forget to book.
Aubrac , situated on the borders of three departments, Aveyron, Cantal and Lozère, and three regions, Midi- Pyrenees, Auvergne and Languedoc Roussillon stretches over 2500 km ² , 800m to 1470m altitude. The village of Aubrac , " Braco Alto " or "high place", 1300m, is located in the heart of the Plateau de l' Aubrac, the cradle of breeding cattle breed where the natural environment is exceptional.
When it comes May 25th, the traditional date of the rise of herds to the plateau of Aubrac (transhumance), cows are getting impatient as if the mountain called them. Men and beasts agree a time of celebration. Cow heads are decorated with holly, flowers, flags and cowbells. The oldest cow in the herd carries a " clap ", she walks at the head and give the rhythm . The path of the herd does not exceed 70 km, with an average speed of 3 to 5 km / h. Calves of the year join their mothers by truck. Beyond its festive and convivial aspect, the phenomenon of movement of livestock is not artificial or folk , it is first and foremost related to agricultural practice and the type of farming, specifically adapted to the natural environment Aubrac.
Entertainment for all, presentation of animals, meeting with farmers, producers, traditional music and dance ... For dining, lunch and dinner mountain dancing "Night of Aubrac", Aligot of Aubrac. Aubrac meat cooked over a wood fire, regional products market and show producers Aubrac.
28 May 2017 : 36th « Transhumance and Aubrac cows Festival »
Meet the farmers and herd
Follow the herds to their summer pastures mountain towards Laguiole Nasbinals or Brameloup .
Enjoy local produce : Wines, Laguiole cheese, Aligot de l'Aubrac, Aubrac beef
Listen and watch folk groups Lous Oyolos (Laguiole) and The Cabrette du Haut Rouergue (Espalion)
Fill up flavors fairground market and regional products
Try your luck in the game "Guess the weight of the bull"
... and many other events at the " Salon du Terroir Aubrac ."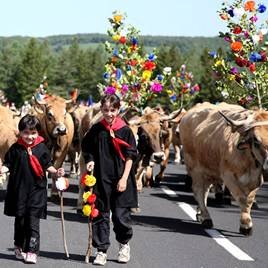 Around Aubrac...
Enjoy your visit to the Festival of Transhumance to discover the Haut-Rouergue, the Viadène, the Carladez, the Ruthénois... Camping the Romiguière, easy access to all the sites to see: Estaing, Espalion, Entraygues, St. Comes, Laguiole.
To take full advantage of the Festival of Transhumance 2017, Camping La Romiguière offers pleasant accommodations and convenient solution. Don't forget to book a mobilehome or a location for your motorhome...
Here are some pics of the campsite. Other pics are availlable at "Campsite Map"
2 complete sanitary facilities are at your disposal, with showers, sinks, Washbasins, toilet. Of course, the hot water is as desired.
We open, upon request, a third sanitary reserved for disabled persons.

What if finally going back to real camping ?...
The Camping :
At your Service :
The Bar and the Snack :
Activities, sports, leisure :
Sanitary Facilities :
Rentals :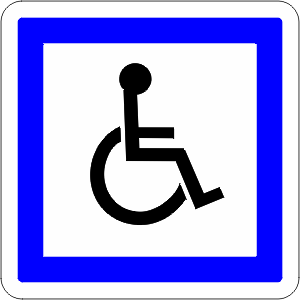 At Camping La Romiguiere, you will have all specific equipment for disabled persons :
Access ramp to the pool
Footbath without stairs
Reserved Sanitary (with shower, avec douche, sink, WC...)
Access ramp to the bar terrace and to the restaurant
All camping pitches (for tents, caravans and motorhomes) are accessible without stairs
To book a pitch or a mobilhome, and to avoid junk mail, we recommend you to call us or visit http://www.laromiguiere.com for availability.
OPTION: The option is valid for 7 days. After this period, without receiving your booking form or your internet booking, or if we don't receive your deposit, it will automatically be canceled. The option has no contractual value and may be canceled without penalty to either side.
RESERVATION: The reservation is personal, it can not be transferred. It will be considered after the booking form is received (or after your internet booking), with a deposit of 30% (minimum €50) and €16.00 of booking fee (depending on the period). The balance is payable on arrival. Upon receipt of the booking with your payment, a confirmation will be sent. It must be presented upon arrival at the campsite reception. The amount will be calculated according to booking dates mentioned in the contract. No discount will be given for early departure or unreasonable delay. It is recommended that you take out cancellation insurance.
CAUTION: For any rental, you must deposit €200.00 per mobilhome or bungalow upon arrival; this deposit will be refunded on departure at the check of the rental and after deduction of any costs of cleaning, the value of missing or damaged equipment (according to fee schedule available at the reception) or repair costs. The tenant must report any discrepancies on arrival. For the stay on a camping pitch, a deposit of €20.00 will be asked for the access badge (deposit returned in exchange of the badge).
ARRIVAL - DEPARTURE: The pitches and rents reserved are available on the day of your arrival after 16 hours and must be vacated no later than 10 hours on the day of your departure. The day before departure, you must make an appointment at the reception for the inventory of your lease.
CANCELLATION: Cancellation of your reservation must be made by letter. Management fees of €16.00 will be retained. If your cancellation is submitted (postmarked authentic) at least 60 days before your arrival, we will refund your deposit minus management fees. If your cancellation is received more than 30 days before your arrival, we will refund 50% of your deposit minus management fees. For cancellations within 30 days of your arrival, your deposit and management fee will be retained by the campsite without dispute. In case of cancellation for reasons falling at the campsite, the customer will be refunded all money paid.
Any change in the dates of your stay can be considered as a cancellation of the original booking and will be considered a new application. Bad weather or personal convenience can never justifies the whole or partial refund of your stay.
CANCELLATION INSURANCE: We advise you to subscribe to the cancellation insurance that we have adhered to GAN EUROCOURTAGE (No. 78630182).
LIFE IN THE CAMPSITE: Any camper will consult the rules of the campsite displayed to the left of the barrier and have to comply with its provisions.
From mid-June to mid-September, the pool is reserved for campers. The main pool is 17 m by 8 m. You will find 1m80 deep. Access is via a gently sloping ramp.
The water is heated during the summer.
Wading pool will delight little ones. On the pool deck, sunbathing are available.
Access to the pool is reserved for children accompanied by an adult who provides continuous monitoring.
We analyze the water in the pool and paddling every day to ensure you a quality bathroom. In addition, an independent laboratory conducts analyzes repeatedly surprises in summer, and the results are displayed at the reception desk.

What if real freedom was being able to get lost ?...
Getting lost on the small ans wild road will help you to discover all Aveyronese treasures. But, before that, you'll be glad to arrive at the campsite... here are some usefull informations for your trip...
Campsite La Romiguière is located in the Midi-Pyrenees, in the department of Aveyron, in the village of Montpeyroux. We are about 20 minutes far from Laguiole and the mountains of Aubrac.
Montpeyroux village is 17 km far from the campsite but the nearest village is Saint-Amans-des-Cots, 7 km far.
Our GPS coordinates are : N44°39'20"/E2°42'15" (N44.65572 / E2.70423)
On your GPS, find Montpeyroux (12210), then the place called "La Roumiguière" (with a "u" after the "o"). Beware, there are 3 other Montpeyroux in France ... choose the one which is in Aveyron (12) !
Campsite La Romiguiere is also accessible by motorhome or large trailer..
Coming from north :
Follow A75 motorway, exit at Saint-Flour, climbing high over the city and follow signs Espalion / Rodez. Skip Entraygues. A Laguiole hanging the D541 towards Soulages-Bonneval, then Touluch. After Touluch, continue towards Saint-Amans-des-Cots, then turn left (a sign indicates La Romiguiere). Follow the lake until you arrive.
Coming from south :
Go to Espalion, then take the D920 towards Estaing. In the center of Estaing, turn right towards Saint-Amans-des-Cots (D97). Drive through the Nayrac. Follow signs "Barrage de la Selve" (a Dam). 2 km away, a sign says "La Romiguiere" on the right. Follow the road through La Capelle, and continue along the lake until you arrive..
Coming from west :
Join Entraygues-sur-Truyère. Drive north via D34, follow direction Banhars, then Saint-Amans-des-Cots (about 15 km). In the center of the village of Saint-Amans, turn right through the south. Drive about 1 km, cross "Colombez", then turn left. Follow the lake via D599 jusqu'au Camping (environ 6 km).
Don't be afraid... the road turns a lot and it's quite tiny but it's big enough for a motorhome or a big caravan ! Take your time ! You're on holidays, aren't you ?

At the campsite, you will find us at the office or at the bar.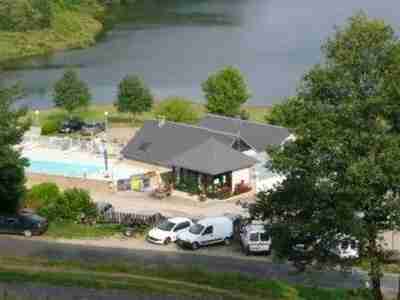 Some distances and durations :
London: 1045 km / 11h30
Aurillac : 64 km / 1h10
Decazeville : 60 km / 1h15
Espalion : 28 km / 30 minutes
Laguiole : 18 km / 20 minutes
Lille : 807 km / 8h15
Lyon : 371 km / 4h20
Marseille : 381 km / 4h25
Montpellier : 210 km / 2h45
Nantes : 576 km / 7h15
Paris : 588 km / 6h15
Rodez : 53 km / 1 heure
Saint-Flour : 73 km / 1h20
Strasbourg : 784 km / 8h25
Toulouse : 200 km / 2h50
Tours : 505 km / 5h20
If, before your arrival or during your stay, you are obliged to cancel your stay, the cancellation insurance will refund your payment if the cancellation occurs because of :
Serious illness, serious injury or death
Destruction of professional office or private house
Theft in your business or private premises
Redundancy
Serious damage to your vehicle or caravan
Complications due to pregnancy
Obtaining a fixed term job
This cancellation insurance (underwritten by GAN EUROCOURTAGE n°78630182) is optionnaly proposed to your a the unique price of 20 €uros. This must be subscribed at the same time than your booking (by internet or by sending the subscription form).
Notez que certaines cartes de paiement (cartes Visa "Premier" par exemple) offrent déjà une assurance annulation. Vérifiez avant de souscrire si vous n'êtes pas déjà assurés !

What if taking time is real luxury ?
Looking for an English Spoken campsite just near a fishing lake?
Just come to Camping La Romiguière in the south of France in Aveyron.
Camping La Romiguière is the ultimate destination for lovers of tranquility, space, nature, hiking and all sorts of recreation on the water (sailing, fishing, swimming...).
You are looking for a quiet place or a rental near a lake in Aveyron (between Dordogne and Ardèche)
You are looking for a safe place where children can come and go safely.
You like small campsites where you and your children will quickly find friends
You like natural and preserved sites where you can observe the flora and fauna (herons, otters, hawks, deer, martens, ...)

Camping La Romiguière : in Aveyron between Laguiole and Estaing,
between Aubrac and river Lot, ideal place for relaxing holidays for children,
parents and oldest in a family atmosphere!