Latest News of Campsite La Romiguiere

A nice 2019 ending...
Here are some pictures of this nice 2019 year.
Thanks to all friends, regulars and news for having all these nice times here !
Committed Zero Phyto !
By coming to Camping La Romiguière, you enjoy an exceptional natural environment. We are already doing a lot to preserve this natural environment.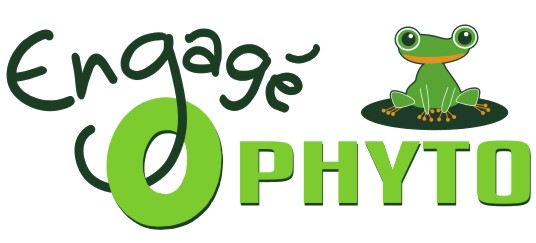 But we must go even further!
That's why we are committed to a Zero Pesticide initiative.
In Occitania, 18 pilot campsites (out of 1,600) received the "Engagé 0 Phyto" (Committed 0 Phyto) award at a ceremony held on March 28, 2019 in Castelnaudary. This distinction concretizes the commitment of these 18 managers of camping in the regional charter "Zero Phyto" which already has 322 municipalities and 3 intercommunalities and 3 departments!
For your next truly natural holidays, choose the "Engagé 0 Phyto" campsites!
The press release (in french) :

Summer 2019 musical Shows
Summer 2019 will be Rock, Jazz and Soul, but also Irish and Celtic!
We will meet Christophe Schirmer again (for the 8th year ...). Henry James will be back for 2 nights with Angus Young in Guest-Star, and we welcome Cati and Angus for a Celtic evening.
Here are the dates for summer 2019:
Henry James (Guitar and Rock) : 17 july and 14 august - Henry (and Angus Young) back at La Romiguière for the 3rd year
Christophe Schirmer (Saxo Jazz) : 10 july, 24 july and 7 august - a "Best-Of" at La Romiguière since 2012 !
Cati & Me (Irish music) : 31 july - first show at La Romiguière !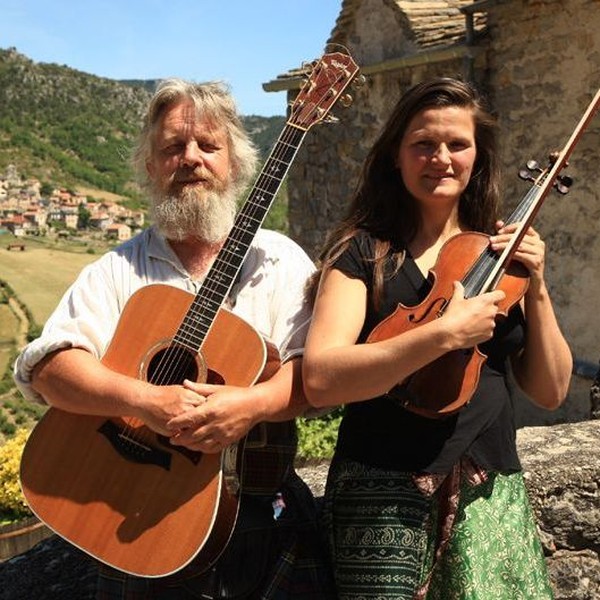 Nice and Happy New Year 2019

Nathalie and Stéphane are wishing you
Nice and Happy New Year 2019
Hope to see you at
Camping La Romiguière in Aveyron
from the 20th avril.
Reservations are open for 2019
The campsite will be open from 20 April to 28 September 2019.
Don't wait ! There are specials offers for those who book early :
Pitch with water + electricity from 14€
Mobilhomes from € 29 per night (for 4 people)
15% discount for stays of 14 nights or more
No booking fee if booked early
Discovery offer in Bungalow Toile at 99 € / week (in low season)
Call us on +33 5 65 44 44 64 or by email or on Facebook
See you soon !
The campsite is closed - Rendez-vous in April 2019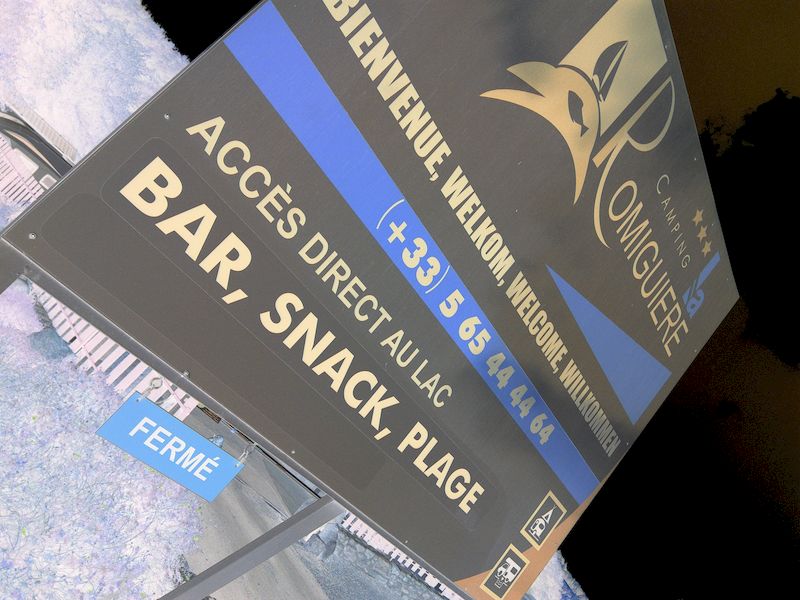 Camping La Romiguière is now closed for the winter.
You can already book for 2019.
Don't wait ! There are some Special Offers if you book soon !
See you soon
Finally, a first boat at the pontoon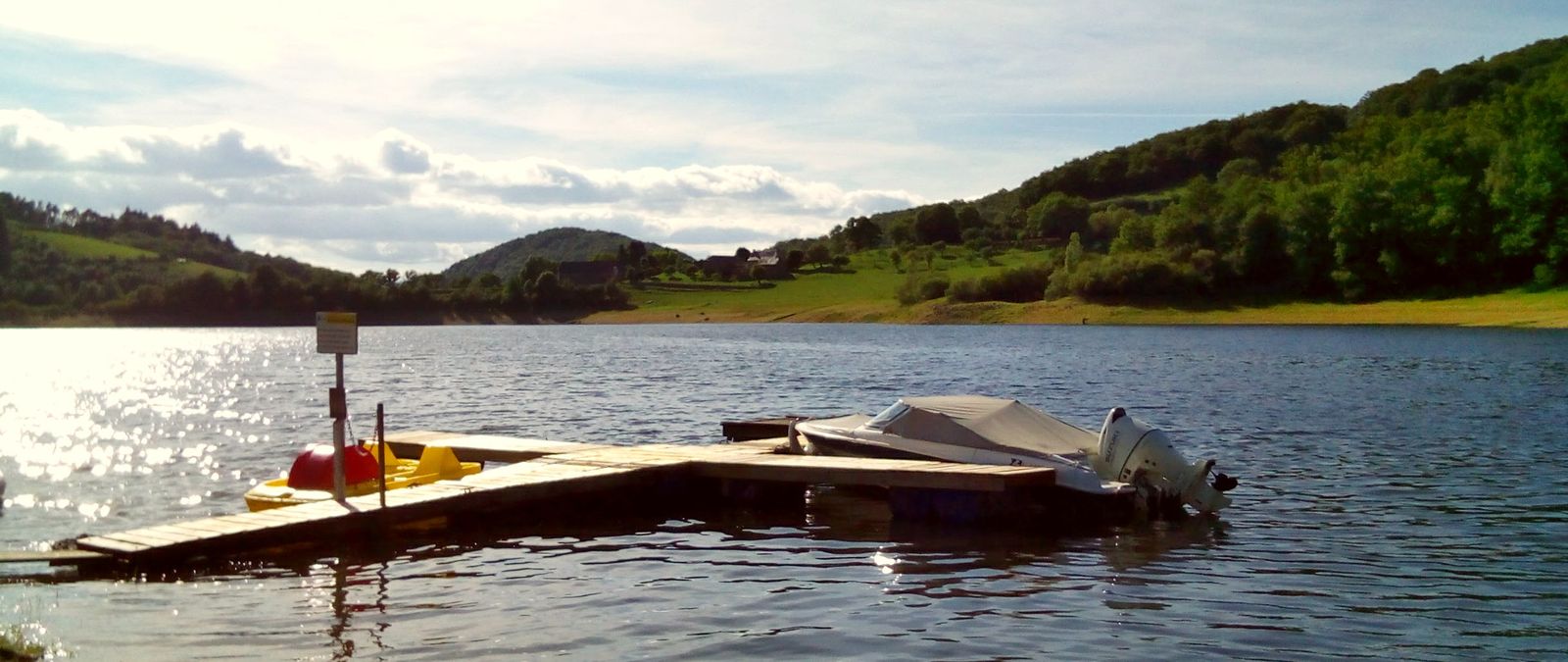 During this last cold winter, we were wondering if the lake would finally raise up. Well then, the first elements of the new pontoon are on the water and a first boat has already docked.
By mid-June, the pontoon will be completely installed and we will be able, as usual, to accommodate about fifteen boats.
Summer is coming soon, and holidays as well !
See you soon at Campsite La Romiguière !
Sax&Song - the video
While waiting for the summer, Christophe offers us this beautiful video tour, partly made at Camping La Romiguière.
Christophe will be in your campsite on 20 July, 3 August, 17 August ...
For the other weeks we will have Doc Lou, Henri Belloc and Victoria.
And think about booking your next vacation ... ;-)
The old underwater bridge in front of Campsite La Romiguiere
19 january 2017 : the weather is very cold at Camping La Romiguiere.
Lake Maury is frosen.
EDF produces electricity with the water. The lake goes down and down... and let appear the old bridge at the Oustrac (the farm in front of the campsite)
But, like every year, the level of the lake will raise up at the beginning of spring.
---
26 august 2015 : deep in the lake...
Underwater, just in front of the campsite...
14 july 2015 : The brassband "Les Timbrés"
3 June 2015 : Quietness and sun shine at the lake
Lucky campers enjoy summer weather at the lake...
Wonderful lake this 10 january 2014
The weather is clear and rather warm (15 ° C). The lake almost full, is a true mirror reflecting Oustrac, the farm opposite the campsite. Quietness, as usual...
Where to find the boss ?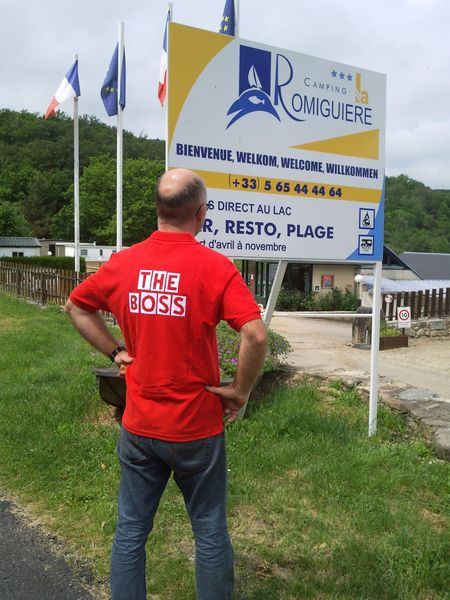 It's easy !
It's written on it !
Anyway, Camping La Romiguière is not so big ! You will always find someone to help you !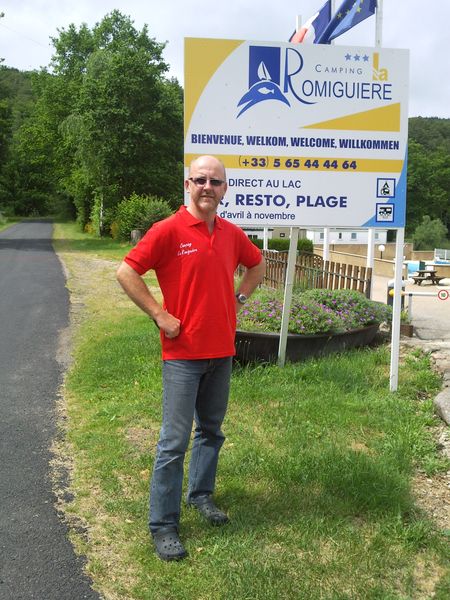 5 july 2013 : back to La Romiguière "harbour"...
Back to the campsite after a boat trip on the lake
Nice Holidays at Campsite La Romiguiere
Hre are some pics taken during summer 2012 just to show you how is Camping La Romiguière.
Here, no loud parties, no "camping club" animations; You will choose Campsite La Romiguière for peace and quietness.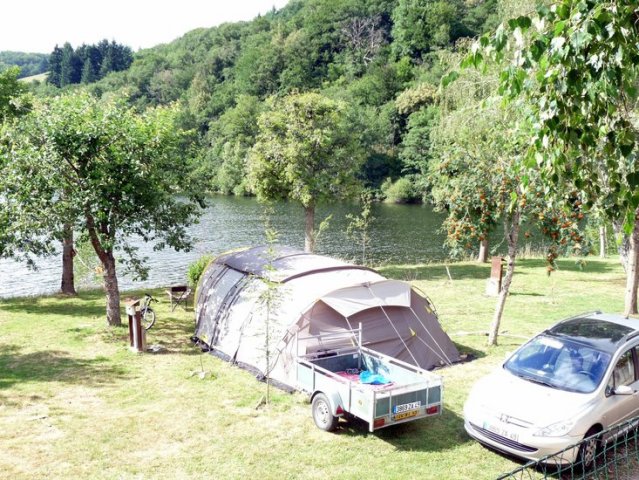 Our pitches are about 100m2 wide. There are all bordered by trees or plants. You have water and electricity at every pitches. And you can see te lake from everywhere ! Click here to have a map of the campsite. On this picture, you can see place n°41.
---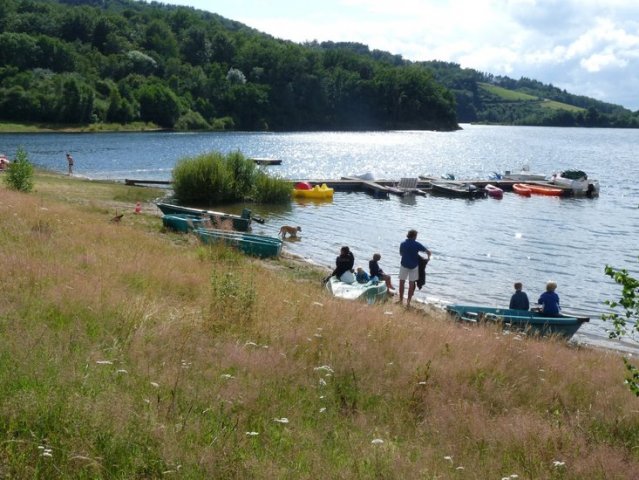 The beach and the pontoon
---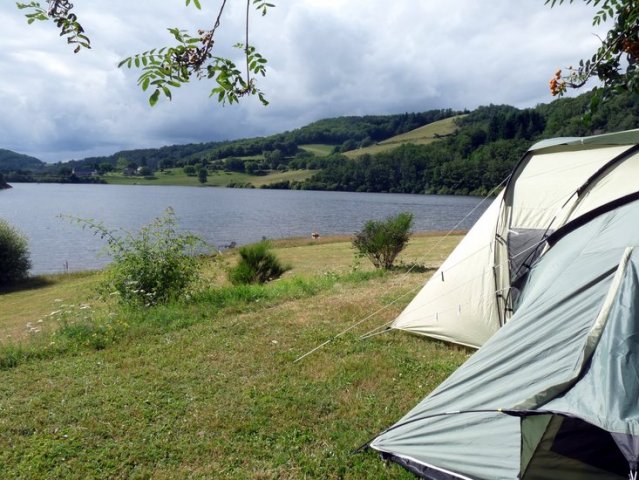 It will be quite difficult to have a more quiet and natural place ! This camper put his tent just by the limit of the pitch in order to be as near to the lake as possible. Here is place no 53.
---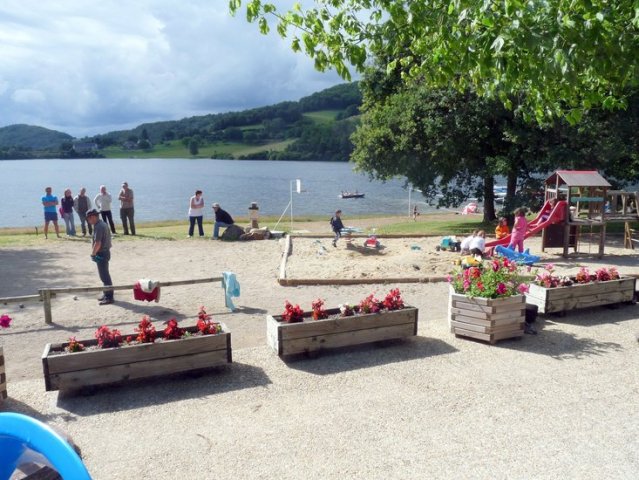 The boss's office...
No need to arrange a rendez-vous with the boss at camping La Romiguière. You will find him... somewhere in the campsite ! Probably at the bar or using a screwdriver to make a repair in a mobilhome or practicing underwater diving with campers or managing the "jeu de boules" contest or even at the jetty for a promenade on the Lake of Maury. We are here 24h per day and 7 days per week !
---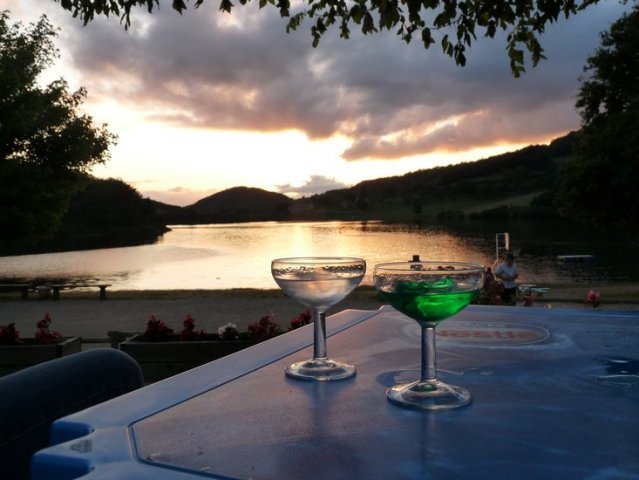 Apéro-Time
---
Santé !
The sunset are really beautiful here. Just sit on the beach or at the terrasse, and enjoy!
.
---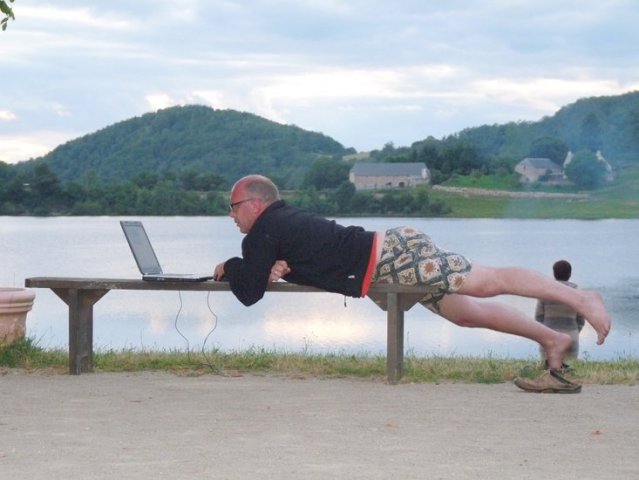 Free Wifi !
Stay connected during your holiday ! At Camping La Romiguière, it's free and unlimited
---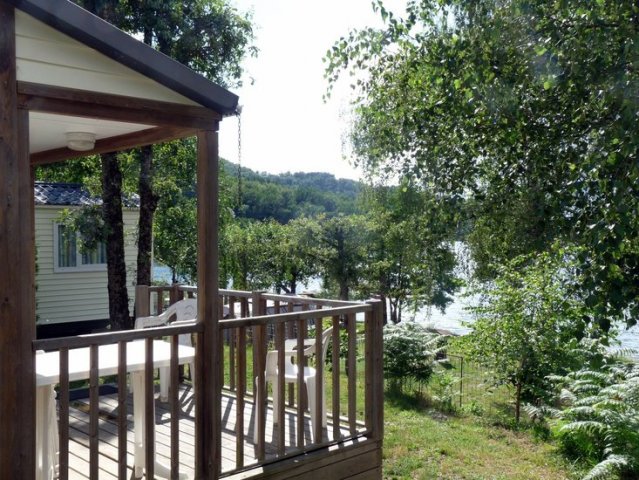 You mobilhome near the lake.
Here is mobilhome n°22 with its halfcovered terrace. It's great to have a drink outside even if the weather is not so nice.
All our mobilhomes are equiped for up to 6 people (using the sofa in the main room).