What if real freedom was being able to get lost ?...
Getting lost on the small ans wild road will help you to discover all Aveyronese treasures. But, before that, you'll be glad to arrive at the campsite... here are some usefull informations for your trip...
Campsite La Romiguière is located in the Midi-Pyrenees, in the department of Aveyron, in the village of Montpeyroux. We are about 20 minutes far from Laguiole and the mountains of Aubrac.
Montpeyroux village is 17 km far from the campsite but the nearest village is Saint-Amans-des-Cots, 7 km far.
Our GPS coordinates are : N44°39'20"/E2°42'15" (N44.65572 / E2.70423)
On your GPS, find Montpeyroux (12210), then the place called "La Roumiguière" (with a "u" after the "o"). Beware, there are 3 other Montpeyroux in France ... choose the one which is in Aveyron (12) !
Campsite La Romiguiere is also accessible by motorhome or large trailer..
Coming from north :
Follow A75 motorway, exit at Saint-Flour, climbing high over the city and follow signs Espalion / Rodez. Skip Entraygues. A Laguiole hanging the D541 towards Soulages-Bonneval, then Touluch. After Touluch, continue towards Saint-Amans-des-Cots, then turn left (a sign indicates La Romiguiere). Follow the lake until you arrive.
Coming from south :
Go to Espalion, then take the D920 towards Estaing. In the center of Estaing, turn right towards Saint-Amans-des-Cots (D97). Drive through the Nayrac. Follow signs "Barrage de la Selve" (a Dam). 2 km away, a sign says "La Romiguiere" on the right. Follow the road through La Capelle, and continue along the lake until you arrive..
Coming from west :
Join Entraygues-sur-Truyère. Drive north via D34, follow direction Banhars, then Saint-Amans-des-Cots (about 15 km). In the center of the village of Saint-Amans, turn right through the south. Drive about 1 km, cross "Colombez", then turn left. Follow the lake via D599 jusqu'au Camping (environ 6 km).
Don't be afraid... the road turns a lot and it's quite tiny but it's big enough for a motorhome or a big caravan ! Take your time ! You're on holidays, aren't you ?

At the campsite, you will find us at the office or at the bar.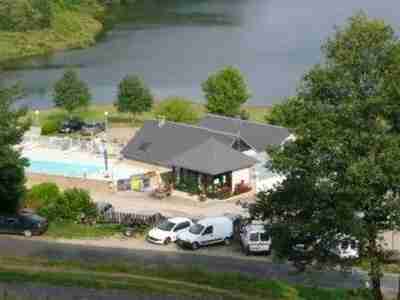 Some distances and durations :
London: 1045 km / 11h30
Aurillac : 64 km / 1h10
Decazeville : 60 km / 1h15
Espalion : 28 km / 30 minutes
Laguiole : 18 km / 20 minutes
Lille : 807 km / 8h15
Lyon : 371 km / 4h20
Marseille : 381 km / 4h25
Montpellier : 210 km / 2h45
Nantes : 576 km / 7h15
Paris : 588 km / 6h15
Rodez : 53 km / 1 heure
Saint-Flour : 73 km / 1h20
Strasbourg : 784 km / 8h25
Toulouse : 200 km / 2h50
Tours : 505 km / 5h20